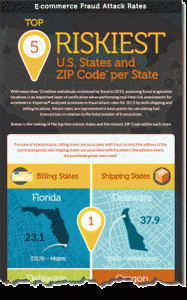 2015 data shows where billing and shipping e-commerce fraud attacks occur in the United States.
Experian e-commerce fraud attacks and rankings now available.
Does knowing where fraud takes place matter? With more than 13 million fraud victims in 2015,[1] assessing where fraud occurs is an important layer of verification when performing real-time risk assessments for e-commerce. Experian® analyzed millions of e-commerce transactions from 2015 data to identify fraud-attack rates across the United States for both shipping and billing locations.
View the Experian map to see 2015 e-commerce attack rates for all states and download the top 100 ZIP CodeTMrankings.
"Fraud follows the path of least resistance. With more shipping and billing options available to create a better customer experience, criminals attempt to exploit any added convenience," said Adam Fingersh, Experian general manager and senior vice president of Fraud & Identity Solutions.… Read the rest