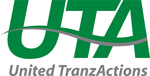 As a leading payment solution provider, UTA will help you find the optimal processing solutions to enhance your cash flow, eliminate inefficient processes, and provide you with comprehensive reporting and money-saving ways to manage your receivables and customer payments. Our innovative processing solutions offer you greater speed, reliability, and a variety of customizable connectivity options.
UTA provides the following services coupled with superior customer service:
Check Guarantee, ACH Payments, Online Bill Payment, Credit Card Processing, Credit Card Surcharging, Remote Deposit Capture, Mobile Deposit, and the new ACH or PADS, Credit Card Processing, and Surcharging to businesses accepting payments from Canadian customers.
UTA is a Preferred Provider for these services and an Official Business Partner of the NACM, which is recognized as America's Premier Credit Management Organization for over 100 years.
For more information, contact your Account Executive.

Offer your customers the convenience of processing online payments. Your customers will be able to access your custom branded Online Bill Pay portal directly from your website at any time with ease.

Mitigate the risk of accepting checks and eliminate wasted hours spent traveling to and from the bank. Deposit all of your checks directly from the point of sale with Remote Deposit Capture from UTA. If you're simply looking to deposit your A/R Checks electronically, UTA offers custom solutions that help streamline your check acceptance program for a successful accounts receivables operations.


MOBILE DEPOSIT
Deposit your company's checks or accept an ACH payment anytime, anywhere, 24/7 from the convenience of your mobile Android or iOS device with UTA's Mobile Deposit solution. What's more, enroll in the "guaranteed" settlement option to reduce the inherent risk of accepting checks or ACH payments.




UTA and Worldpay have been partners for over 22 years, offering thousands of businesses credit card and check processing solutions. Reduce your credit card processing rates and fees with automated Level III processing and large ticket discount rates, now available to all Canadian businesses. What's more, you can reduce or eliminates the cost of expensive credit card acceptance fees with UTA's fully compliant Surcharge Solution.