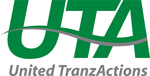 Why United TranzActions (UTA)?
UTA is committed to helping our clients build a frictionless payment acceptance environment. Our goal is to understand your business needs so that we can match you with custom payment solutions that work harder and smarter for your money.
For more information contact your Account Executive.
As the leading payment solution provider, UTA will help you find the optimal processing solutions to enhance your cash flow, eliminate inefficient processes, and provide you with comprehensive reporting and money-saving ways to manage your receivables and customer payments.

Empower your company to accept customer-initiated credit card and ACH payments with remittance advice via your website.

Imagine, no more trips to the bank, never having to worry about chargebacks, returned checks, per check deposit fees, returned check fees or bank fees.

MOBILE DEPOSIT
Guarantee and deposit your customer's checks anytime, anywhere, 24/7 with UTA's Mobile Deposit Solution.

A powerful tool for businesses that want to initiate and receive electronic payments from customers with Canadian bank accounts in Canadian currency.