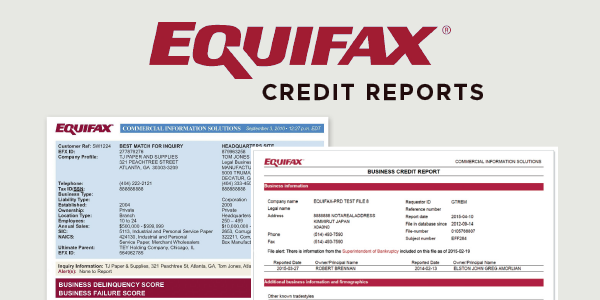 Knowing more about your business prospects, customers and vendors helps you make more confident decisions and set terms that optimize profitability while minimizing risk.
Whether you need domestic or international business credit reports, Equifax offers vast coverage and depth of information, with an unmatched focus on the critical small business segment. From verified business identities and detailed credit history to business owner and corporate linkage, Equifax Business Credit Reports give you the deepest level of insight into the validity, financial stability and performance of more businesses.
We offer a full suite of solutions so you can choose the business credit report that best meets your needs. Depending upon which report is right for your specific situation, you may receive the following types of information:
Firmographics (aka business demographics)

Public records, such as judgments, liens, UCCs and bankruptcies

Trade payment history

Financial payment history

Corporate family trees and identifying information for each business level

Small business owner and/or guarantors associated with the business
Trust Equifax Business Credit Reports to help you clearly spot immediate and future risk.
Domestic and Canadian reports are available.
Business Credit Industry Report 2.0
Business Credit Industry Report Plus
Business Principal Report
Equifax Canadian Report
Business Credit Industry Report 2.0
Business Credit Industry Report Plus
Business Principal Report
Equifax Canadian Report