Jun 8, 2016
Written by: Scott Blakeley, Esq.
Credit cards are the most expensive payment channel for the supplier, and the fastest growing. Indeed, for some suppliers, customer credit card charges are one of their largest operating expenses. What can the supplier do to manage the card cost as more customers turn to cards to pay supplier invoices?
Cards Continue to Increase for a Number of Reasons
The share of customers that pay suppliers by credit card continues its dramatic increase in the B2B space for the following reasons: (1) card issuers continue to increase the rewards offered to individual cardholders (travel points, miles, and cash back), and corporate cardholders (rebates); (2) card awareness is increasing in the B2B space as card networks now cold call customers trying to convince the finance team that cards should be the payment preference for the invoices of their supply chain; and (3) the customer's cash flow and working capital improves by using cards, compared with other payment channels.
Squeezing Supplier Margins at Time of Remittance
Consider a $200,000 order, as set out in the table below. The supplier's margins in fulfilling the order are shaped by both whether the customer has been extended terms and the customer's payment preference, such as credit cards. The supplier may try and influence the payment choice by offering an early pay discount to non-card payment types, such as ACH. The key takeaways for the supplier in dealing with shrinking margins is that at time of remittance, the most effective way to handle costs is to surcharge the customer's credit card, if that is the customer's payment preference, as opposed to offering an early pay discount. And allowing the customer to continue to use a credit card may better meet the customer's payment preference—accruing points and miles even if surcharged.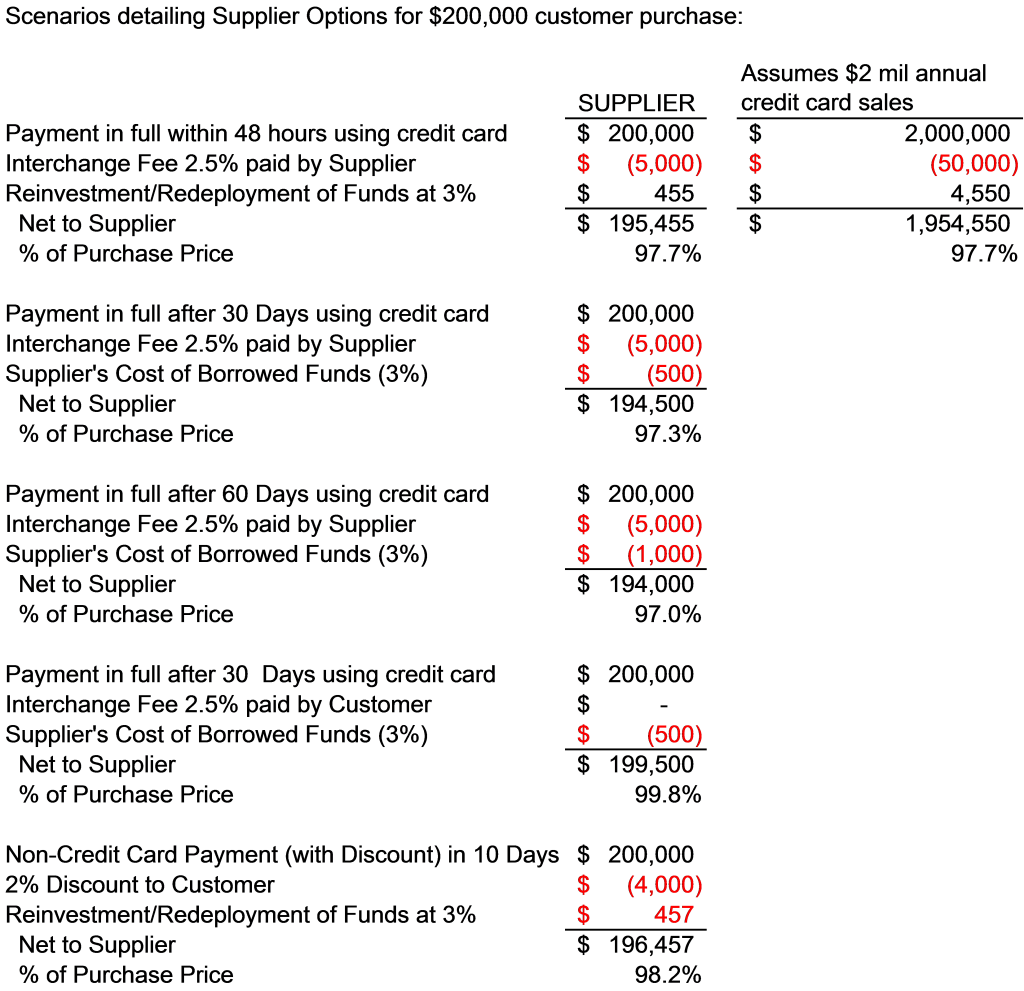 The Credit Team Taking Steps to Address Shrinking Margins
While supplier margins are commonly the domain of the finance team and leadership, the chart above reminds suppliers that with low margin sales, the credit team has a voice to improve margins by implementing a surcharge program with credit card payments to offset payment channel costs. Surcharging allows the supplier to offset a majority of card costs. Surcharging may also result in the customer electing to use another payment form, such as ACH. By contrast, the credit team should meet with finance so that they appreciate that an early pay discount incentive is overall a more expensive option for the supplier.
Scott is a principal at Blakeley LLP, where he practices bankruptcy and creditors' rights. His email:  seb@blakeleyllp.com.