Jul 11, 2017
It is no small endeavor to be recognized and awarded an NACM National award! It takes strong commitment, dedication, encouragement, persistence, and perseverance. Just ask Julie A. Anderson, CBF, CCRA of Stoneway Electric, who was awarded the 2017 CBF Designation of Excellence Award at NACM National Credit Congress in Dallas this past month. We interviewed Julie and asked her to share her experiences with our readers.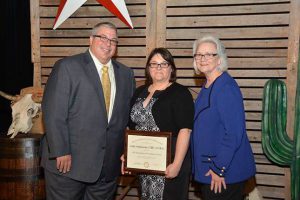 Why do you think it's important to have a certification as a credit manager?
I believe that having the certifications has helped me grow and gain respect and trust from my upper management as well as my co-workers. They see that I am invested in myself and my career and that I am always trying to learn more and keep up with the changes in the credit and finance field. When I have to make tough calls, they can respect my decision because they know that I have put in the work and that they can trust that I have made the correct decision for our business.
Why did you personally decide to go through the accreditation journey?
I decided I wanted to be taken seriously when it came to making decisions, and my management would be able to trust I know what I am doing, which would help to lower the risk for our department and in turn help with sales and profitability. I have always had a competitive side and anyone that knows me well knows I have always been driven to succeed! When I see a challenge I have to prove to myself I can do it and that it is going to be worth it in the long run.
What does being accredited mean to you and your company?
Being accredited means that I am validated and accomplished, that I am taken seriously when I tell my management that we can or cannot do something.
Describe the experience of winning a national award?
The experience of winning a national award for me is exhilarating. I was a little bit shocked at first, but then I just reveled in the moment and took it all in! It was an honor to stand up on the stage with the other award winners and think about the previous years I was in the audience when others won. This year I was up there feeling pretty accomplished!
Tell us a little about Stoneway Electric.
Stoneway is a GREAT place to work, the culture here is FAMILY! We all are given the support, respect, and tools we need to do our jobs and are trusted to do it and get it done. We are a winning team!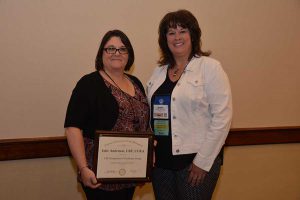 How long have you been employed at Stoneway Electric?
I have been a part of the Stoneway team for almost five years, but have been with our parent company, Crescent Electric Supply, for just over eleven years.
What are your job responsibilities at Stoneway?
My job responsibilities are to maintain the credit relationship with both our customers and our staff. My position covers the credit application and procedures process, the collections process, the dispute resolution process, the bad debt reserves process, and last but not least the customer credit account relationship with Stoneway. We take this part very serious as we look at our customers as partners in business, not just as customers. It is my job to help build that relationship and make sure our customers have all the tools that we offer ready and available to them. I am an extension of the sales department, just in a customer service orientated way!
What are your future plans for keeping your accreditation and knowledge fresh?
My future plans are to continue with the process and obtain my CCE designation. After that, I will continue to be a part of the Education Committee to help others walk down this journey as it can be overwhelming at first but so rewarding once you get started! I know that this is a lifelong process as we need to continue to stay abreast of new changes in the credit field so I will continue to take classes and attend conference and seminars. I was recently asked about the Graduate School program and was told to really think about it, I would love to entertain this as teaching others is something that I would love to see in my future.