Mar 11, 2016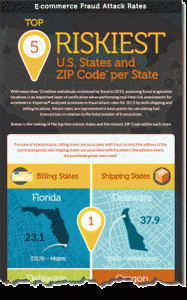 2015 data shows where billing and shipping e-commerce fraud attacks occur in the United States.
Experian e-commerce fraud attacks and rankings now available.
Does knowing where fraud takes place matter? With more than 13 million fraud victims in 2015,[1] assessing where fraud occurs is an important layer of verification when performing real-time risk assessments for e-commerce. Experian® analyzed millions of e-commerce transactions from 2015 data to identify fraud-attack rates across the United States for both shipping and billing locations.
View the Experian map to see 2015 e-commerce attack rates for all states and download the top 100 ZIP CodeTMrankings.
"Fraud follows the path of least resistance. With more shipping and billing options available to create a better customer experience, criminals attempt to exploit any added convenience," said Adam Fingersh, Experian general manager and senior vice president of Fraud & Identity Solutions. "E-commerce fraud is not confined to larger cities since fraudsters can ship items anywhere. With the switch to chip enabled credit card transactions, and possible growth of card-not-present fraud, our fraud solutions help online businesses monitor their riskiest locations to prevent losses both in dollars and reputation in the near term."
For ease of interpretation, billing states are associated with fraud victims (the address of the purchaser) and shipping states are associated with fraudsters (the address where purchased goods are sent). According to the 2015 e-commerce attack rate data:
Florida is the overall riskiest state for billing fraud, followed by Delaware; Washington, D.C.; Oregon and California.
Delaware is the overall riskiest state for shipping fraud, followed by Oregon, Florida, California and Nevada.
Eudora, Kan., has the overall riskiest billing ZIP Code (66025). The next two riskiest ZIPTM codes are located in Miami, Fla. (33178) and Boston, Mass. (02210).
South El Monte, Calif., has the overall riskiest shipping ZIP Code (91733). The next four riskiest shipping ZIP codes are all located in Miami.
Overall, five of the top 10 riskiest shipping ZIP codes are located in Miami.
Defiance, Ohio, has the least risky shipping ZIP Code (43512).
The majority of U.S. states are at or below the average attack rate threshold for both shipping and billing fraud, with only seven states — Florida, Oregon, Delaware, California, New York, Georgia and Nevada — and Puerto Rico ranking higher than average. This indicates that attackers are targeting consumers equally in the higher-risk states while leveraging addresses from both higher- and lower-risk states to ship and receive fraudulent merchandise. Many of the higher-risk states are located near a large port-of-entry city, including Miami; Portland, Ore.; and Washington, D.C., perhaps allowing criminals to move stolen goods more effectively. All three cities are ranked among the riskiest cities for both measures of fraud attacks.
Neighboring proximity to higher-risk states does not appear to correlate to any additional risk — Pennsylvania and Rhode Island are ranked as two of the lower-risk states for both shipping and billing fraud. Other lower-risk states include Wyoming, South Dakota and West Virginia.
Experian analyzed millions of e-commerce transactions to calculate the e-commerce attack rates using "bad transactions" in relation to the total number of transactions for the 2015 calendar year.
Provided from Experian.com. Original article can be found here: http://www.experian.com/blogs/insights/2016/03/ecommerce-attacks-united-states/