Jan 10, 2017
Sometimes it's better to embrace the unusual, the unlikely, and unexpected. It makes me think of salted caramels or bacon on top of a maple donut. Although mine are all food, we all could think of pairings that came together and accomplished something great. It's been nearly a year since NACM Oregon and NACM Inland NW joined forces to form something greater. Separately both companies were strong, although the Board of Directors along with management recognized our unique pairing and the potential greatness it created for our members.
We've spent the past year blending what we do best in both offices. We are being very thoughtful about culture and working to create an environment that reflects who we are and where we've been, helping us work together seamlessly. We are fortunate to have an energetic staff with an enthusiasm for doing right by customers, co-workers, and their communities.
NACM Northwest is now the third largest NACM in the country by membership and we are bringing several enhancements to the combined association for the benefit of those we work with. We are listening to the members and recently brought flexible payment options to membership fees. If your company is interested in paying monthly or quarterly rather than on an annual basis, just contact your account rep to make the adjustment. We have added technology and are extending educational opportunities via Skype in outlying areas. Make sure to watch NNW's website where we list those opportunities as follows: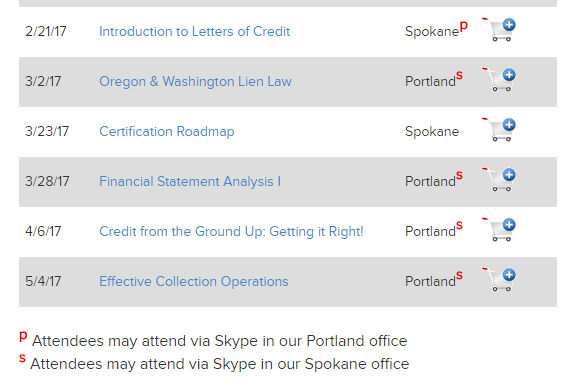 We have partnered closely with the Northwest Foundation to bring additional scholarship opportunities in 2017. Read about those opportunities within this publication. Mark your calendars and be sure to attend the following in your area:
April 21 – Annual Membership Meeting in Spokane
September 15 – Golf Tournament at the Coeur d'Alene Resort
October 7 – Western BBQ & Bluegrass in Portland
We are excited about our future as NACM Northwest. Please participate in upcoming surveys, so we can be sure to consider your suggestions on ways to better serve our credit community. Wishing you a prosperous 2017, where you enhance relationships via your NACM network and find time to participate in education for professional development.
Regards,

Jennifer Walsh, CCE
NACM Northwest, President