Nov 17, 2021
Written by: Brett Hanft, CBA

Many useful resources, tools, and services are available to you as a member of NACM. During my 30+ year career in the credit & finance profession, I firmly believe one of the greatest strengths within our organization is participating in an Industry Group.

The value of participating in an industry group builds rapport and strengthens your network of credit professionals within your own industry. While every industry group can curtail meetings to best serve the needs of the group members, you gain a tremendous amount of knowledge by including educational sessions, round table 'hot topics' discussions that are specifically relevant within your industry, and account clearances.

NACM CS has local, regional, and national groups. Some groups meet monthly, while others meet quarterly. While I've had the pleasure of participating in several industry groups during my credit career, I've never felt so attached to a group as I do in the Western Regional Building Materials Group, created in 2018. As a founding member of this group, I was able to contribute to the creation of our group by-laws and have been serving as Industry Group Chairman since this group's inception.

Members of the WRBM Industry Group are exceptionally well connected and truly understand the value of being part of this regional group. While it's been challenging for us to meet in a virtual and remote setting much of the past two years, we've been excited to welcome new members who have quickly become engaged and participative.

It's difficult to summarize the enormous value and rewards you receive from being an integral and active member of an industry group. I highly encourage you to reach out to NACM Commercial Services to find out about industry groups that might be the best fit for you. Industry Group involvement truly adds another massive benefit to your NACM membership!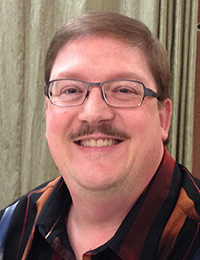 Brett M Hanft, CBA, Credit Manager at American International Forest Products, LLC, has 32 years of credit experience. He earned a bachelor's degree in Business/Economics from Willamette University in 1988. Brett received his Credit Business Associate (CBA) designation in 1991. He has been a consistent, active, and participative member in NACM and CFDD for more than three decades. Brett received recognition in 2001 as the NACM Local and National CBA Designation of Excellence award recipient. Earlier this year, Brett received the CFDD National Spirit Award and the NACM National Emerging Leader Award. He is currently providing service to his local NACM affiliate as the Western Region Building Materials Industry Group Chairman and as a Director on the NACM Commercial Services Foundation Board. In January, Brett began a three-year term of service on the NACM National Board as a Director, serving as the elected representative from the CFDD National Board. This year marks Brett's 31st consecutive year as a member of the CFDD Portland Chapter. Brett has completed 12 years of service on the CFDD National Board and is a CFDD Past National Chairman.