May 17, 2016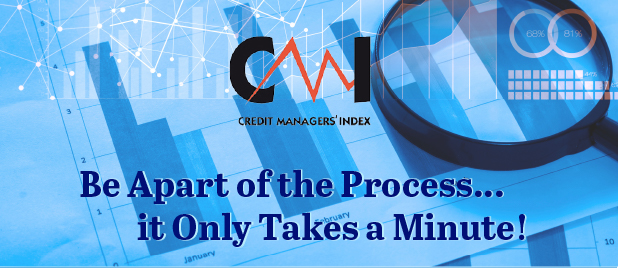 Since its inception, the CMI has been a startlingly accurate economic predictor, proving its worth most notably during the recession.
The CMI is created from a monthly survey of U.S. credit and collections professionals. The survey asks participants to rate whether factors in their monthly business cycle are higher than, lower than, or the same as the previous month. The results reflect the entire cycle of commercial business transactions, providing an accurate, predictive benchmarking tool.
Your participation helps to make the CMI as accurate as possible. Every time you participate in the CMI's monthly survey, you are contributing to a leading economic indicator.
Taking the survey is quick and easy! Just indicate if something is better, the same or worse than the month before. You'll also earn CEU points for taking the CMI surveys!
Help raise the status and respect of the credit profession. Your participation is the solution!
Get the Alerts to Participate
Sign up (http://nacm.org/cmi-signup.html) to receive survey participation alerts. You will receive an email when the survey is open each month so you can participate.
NACM membership is not required to participate nor view results.
Contact your Sales Executive
for questions or more information.