Mar 21, 2019
By: Courtney Feider, Executive Coach, Behavioral Facilitator, and the Author of "I Heart Creativity"

Creative professionals used to be a specific category of worker in the knowledge economy, confined to their own imaginative roles and asked to do whatever upper management requested—no more, no less. Today, things are a little different. Creativity is becoming more valuable across entire organizations, especially at the top. In a 2014 Adobe study, 82% of companies reported a strong connection between creativity and the bottom line. Yet 61% said they didn't see their own organizations as terribly creative.

If that points to a creativity gap, it exists nowhere more clearly than at the C-suite. Here are four of the most underappreciated reasons why truly creative leaders are now more likely than ever to have the competitive edge.
1 ) THEY KNOW THE RIGHT WAYS TO SELF-PROMOTE
Some worry that self-promotion distracts from the creative process, while others see creative and business pursuits–including the messaging around them–as complementary. But for better or worse, many creatives have grown up used to being their own advocates in a world of intensifying competition for attention.

Creatives are ideal candidates to lead boardroom discussions where success hinges on reconciling opposing viewpoints.

When they're young, it's simply about getting people to understand what they're doing and why. Later, creatives need to compete for recognition and to land major projects. As a result, anyone who's had to defend their work in order to build a career is likely to succeed in leadership. How come? Simply put, those experiences translate into powerful leadership skills.

Creatives have essentially been honing their communication abilities and knack for strategic self-advocacy their entire professional lives. Those skills help them explain their visions to others and communicate why others should pay attention. What's more, the reasons they're likely to give have less to do with themselves than with their work and ideas–an important condition for gaining others' support.
2) THEY ACT AS DIPLOMATS AND INTERPRETERS

Creatives are comfortable playing the roles of envoy and translator. They have experience explaining the concepts and making connections between different ideas to a variety of people, all with their own perspectives.

When they move into leadership roles, this quality helps creative thinkers push different people and departments to understand one another on more than just a tactical level. They're good at zeroing in on the big picture and can run interference between teams that not only have different goals but think about those goals in radically different terms. Creatives are ideal candidates to lead boardroom discussions where success hinges on reconciling opposing viewpoints.
3) CREATIVES UNDERSTAND THEMSELVES AND OTHERS

Creatives tend to feel deeply, tapping into others' elation and tribulation. At the same time, they're sensitive to the outer world, and this compassion helps them empathize with people inside and outside their organizations in ways that more analytical leaders might not be able to do.

As a result, creative leaders are comfortable with more collaborative approaches. They don't always need to be top dog. As the workplace shifts away from traditional, hierarchical management structures, this gives creatives a wider advantage in everything from building a more open work culture to recruiting younger talent and keeping everyone motivated for the right reasons.

True creativity requires being able to see things differently from everyone else, and to learn something new every day.
4) THEY DON'T JUST PLAN FOR THE FUTURE—THEY DESIGN IT

Creative thinkers are usually underestimated as strategists. Not only are they tuned into trends and patterns among those around them, they're always focused on creating their next big, inspired project. Both habits make for great preparation for the future.

True creativity requires being able to see things differently from everyone else, and to learn something new every day. As leaders, this gives creatives more than just foresight–it helps them envision the futures they'd like to build. That's arguably harder to do, but it's what success itself tends to rest on.

Creativity is faceted like a diamond and has wide-reaching dimensions in the marketplace, across all industries. Even for those who've suppressed their creative tendencies, it's to unearth them. But for those who've cultivated creativity all their lives, leadership should come more naturally these days than ever.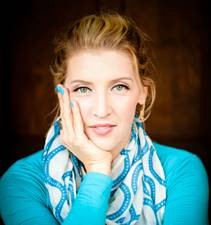 Courtney Feider is a professional speaker and facilitator who presents at business conferences, workshops, and events. She is a behavioral facilitator and executive coach who focuses on helping people use their native creativity to design new leadership strategies. Courtney has 20 years experience as a corporate communications executive, a brand agency owner, an entrepreneur and as a behavioral facilitator and executive coach. She has worked with and in businesses of all sizes from enterprise to start-up. Courtney speaks on a variety of topics including confidence, resilience, personal brand, executive presence, emotional intelligence, creativity, and personal development. Courtney creates beautiful professional presentations integrating art, music, and experiential creative exercises.
Come here Courtney's educational session at the Annual Meeting in Spokane.